Force-Synchro Drive
The new generation of winch-supported drive systems.


Until recently, fully mechanised short timber technology was not available for steep slopes. As a result, there is now a strong demand for suitable, high performance machinery that operates with as little ground damage as possible on sharp gradients at risk of erosion.In recent years, HSM has spurred on steep gradient technology for wheel machines with several innovative solutions and invested further in this technology to satisfy the growing demands of its customers and to contribute towards their success. The "Force Synchro Drive" from HSM has helped HSM to make enormous strides forward. It was introduced for the first time in 2010 with the HSW-15 auxiliary traction winches. The increased cable capacity, the higher cable pulling forces and the more powerful drive system with optimised efficiency facilitate safe and quick manoeuvring on steep gradients.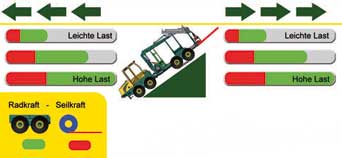 The Force Synchro Drive distributes forces to the cable and the wheel drive in accordance with user specifications.
Here, the force synchronous drive concept has clear advantages over conventional drive systems that work either speed synchronously or specify a constant cable force.

Once the user has preselected force distribution and the maximum cable force, the system regulates these forces automatically so as to avoid cable overload and above all ground damage.
The new HSW-15 winch, fitted to the rear of the HSM 405H2 8WD harvester.
HSM uses the latest CAD development tools and its many years of cable winch expertise raise the performance of its auxiliary traction winches to new heights.
Downloads
Technical information and details can be obtained from our data sheets.