HSM 208F 10 t Kombi short/long (4 cylinder)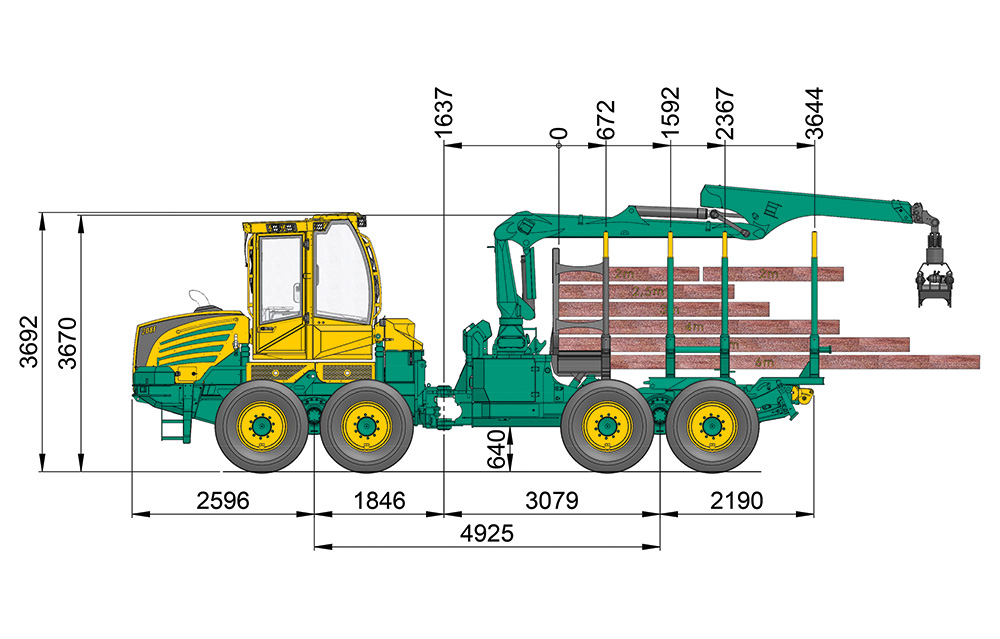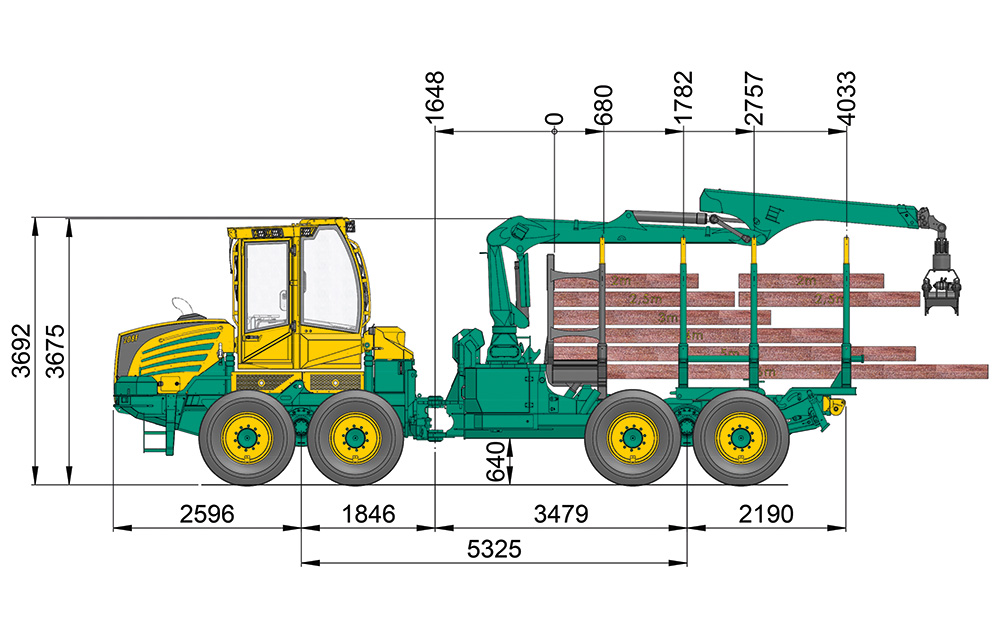 Technical data 208F (4 cylinder)
Engine:
VOLVO PENTA
TAD581VE EU Stage V
Power: 129 kW (175 HP) from 1700 rpm
Max. revolution: 800 Nm from 1100 - 1500 rpm
Max. torque: 816 Nm at 1380 rpm
Displacement: 5,13 liters

Optional: from 208F 10 t


VOLVO PENTA
TAD583VE EU Stage V
Power: 175 kW (238 HP) from 1750 rpm
Max. revolution: 947 Nm from 1200 - 1750 rpm
Max. torque: 969 Nm at 1380 rpm
Displacement: 5,13 liters
Hydraulic system:
Load sensing
Variable pump (working pump):
flow rate: 304 l/min at 1600 rpm
pressure: up to max. 350 bar
Hydraulic oil: saturated synthetic ester
Panolin HLP SYNTH with Kleenoil
microfiltration; WGK 1
Tank capacity:
Diesel: 170 l
AdBlue: 25 l
Hydraulic oil: 130 l
Brake:
Brake with 2-circles, oil-cooled multiple-disc power-brake
Spring accumulator – parking brake
Steering:
Articulated frame steering with 2 cylinders
Steering angle 45°
Cabin:
Raisable to side on parallel linkages
ROPS, FOPS, OPS tested
Rotary seat with pedals in front and rear
Wiper in front and rear, optional on the side
Air cushioned seat with seat heating
Hot-water heating
Air conditioning
Electrics / Instruments:
HSM Ecommand colour-display
5 operator programs + factory setting
Diagnosis-tool and error-indication
Graphic support at parameter editing
Generator 110 A (28 V)
2 service-free dry batteries á 75 Ah
Power train:
NAF 2 speed transfer gearbox
HSM High Speed Drive (series 71); speed at 1st gear 0-14 km/h
Standard equipment:
14 LED-working headlight at cabin
4 working headlights at crane
Potential transformer 24 V - 12 V
Radio with CD
Fire extinguisher
First aid kit
Warning triangle
Tool kit
Cooling box
Reversing camera with color monitor
Rear headlights
Twist lock with 2 hydraulic cylinders
Special equipment:
Front dozer-blade
Tandem axle lift (Bogie lift) front
Turnable rung
Last rung plugged
Tiltable crane
Quick-change system for rungs
Clambunk
Auxiliary heating
Bogie-tracks
Radio control for winch
Drive by radio
Sun blinds
Pluggable front grid
Cab suspension HCS
Crane tip control xyControl (Epsilon crane only)
Other accessories on request
Technical details 208F 10 t Kombi short/long (4 cylinder)
Weight short / long:
from 17.700 kg / 17.900 kg
Winches:
Serie:
Adler HY 20-SG (2x100 kN) double-drum-winch
Max. cable take-up 14 mm, 100 m
Optional:
Adler HY 24-SG (2x120 kN) double-drum-winch
Max. cable take-up 14 mm, 130 m
Adler HY 32 L-SG (2x160 kN) double-drum-winch
Max. cable take-up 14 mm, 170 m
Crane:
Series: Epsilon M70 F80
For further cranes see crane brochure
Tyres:
| Series: | Min. width: |
| --- | --- |
| 710 / 45 x 26,5 | 2600 mm |
By using tracks the min. width will change (+100 mm). Other tyres on request.
Standard equipment:
Grid and first rung demountable
Last rung demountable and displaceable to loading length:
(short) 2,4 m, 3,2 m and 3,65 m
(long) 2,8 m, 3,6 m and 4,05 m
Roller-block, high adjustable
Cross section 3,3 m2
Special equipment:
Fear blade
Clambunk with quick-change system
Twin-rung as 2nd and 3rd rung on quick-change system
Turnable rung
Tiltable crane
Tandem axle lift (Bogie lift) rear
Other accessories on request
HSM Kranliste
HSM Kranliste EPSILON
X = available against surcharge, O = standard equipement, # = not available
EPSILON
Crane typ
Lifting
moment
Range
Gripper
type
208F Kombi 10 t
C60 F69
82/63 kNm
6,9 m
FG43S
#
C60 F86
82/51 kNm
8,6 m
FG43S
#
M70 F80
102/68 kNm
8,0 m
FG43S
O
M70 F86
102/68 kNm
8,6 m
FG43S
X
M70 F101
102/65 kNm
10,1 m
FG43S
X
M80 F80
114/79 kNm
8,0 m
FG43S
X
M80 F86
114/79 kNm
8,6 m
FG43S
X
M80 F101
114/75 kNm
10,1 m
FG43S
X
S100 F80
128/91 kNm
8,0 m
FG43S
X
S100 F86
128/90 kNm
8,6 m
FG43S
X
S100 F101
128/86 kNm
10,1 m
FG43S
X
S110 F80
143/104 kNm
8,0 m
FG43S
X
S110 F86
143/104 kNm
8,6 m
FG43S
X
S110 F101
143/100 kNm
10,1 m
FG43S
X
X120 F80
159/111 kNm
8,0 m
FG43S
X
X120 F86
159/110 kNm
8,6 m
FG43S
X
X120 F102
159/107 kNm
10,2 m
FG43S
X
X140 F80
173/123 kNm
8,0 m
FG43S
X
X140 F86
173/122 kNm
8,6 m
FG43S
X
X140 F102
173/119 kNm
10,2 m
FG43S
X
Low crane column (height 1730 mm)
series at steep slope and Kombi
O
HSM Kranliste Mesera
X = available against surcharge, O = standard equipement, # = not available
Mesera
Crane typ
Lifting
moment
Range
Gripper
type
208F Kombi 10 t
F59 F72
78/56 kNm
7,2 m
FG43S
#
F59 FT85
78/51 kNm
8,5 m
FG43S
#
F59 FT100
78/47 kNm
10,0 m
FG43S
#
F59 FT100i
78/47 kNm
10,0 m
FG43S
#
F71 F72
99/75 kNm
7,2 m
FG43S
X
F71 FT85
99/70 kNm
8,5 m
FG43S
X
F71 FT100
99/66 kNm
10,0 m
FG43S
X
F71 FT100i
99/66 kNm
10,0 m
FG43S
X
F83 F72
106/82 kNm
7,2 m
FG43S
X
F83 FT85
106/76 kNm
8,5 m
FG43S
X
F83 FT100i
106/73 kNm
10,0 m
FG43S
X
M 92 F80i
130/84 kNm
8,0 m
FG43S
X
M 92 FT86i
130/84 kNm
8,6 m
FG43S
X
M 92 FT100i
130/84 kNm
10,0 m
FG43S
X
F111 F72
151/111 kNm
7,2 m
FG43S
X
F111 F85
151/100 kNm
8,5 m
FG43S
X
F111 FT85
151/100 kNm
8,5 m
FG43S
X
F111 FT91
151/98 kNm
9,1 m
FG43S
X
F111 FT100
151/101 kNm
10,0 m
FG43S
X
M122 F85i
155/110 kNm
8,5 m
FG43S
X
M122 F96i
155/ - kNm
9,6 m
FG43S
X
M122 FT100i
155/ - kNm
10,0 m
FG43S
X
M142 F85i
178/132 kNm
8,5 m
FG43S
X
M142 F96i
178/124 kNm
9,6 m
FG43S
X
M142 FT100i
178/ - kNm
10,0 m
FG43S
X
The variable rear
The variable rear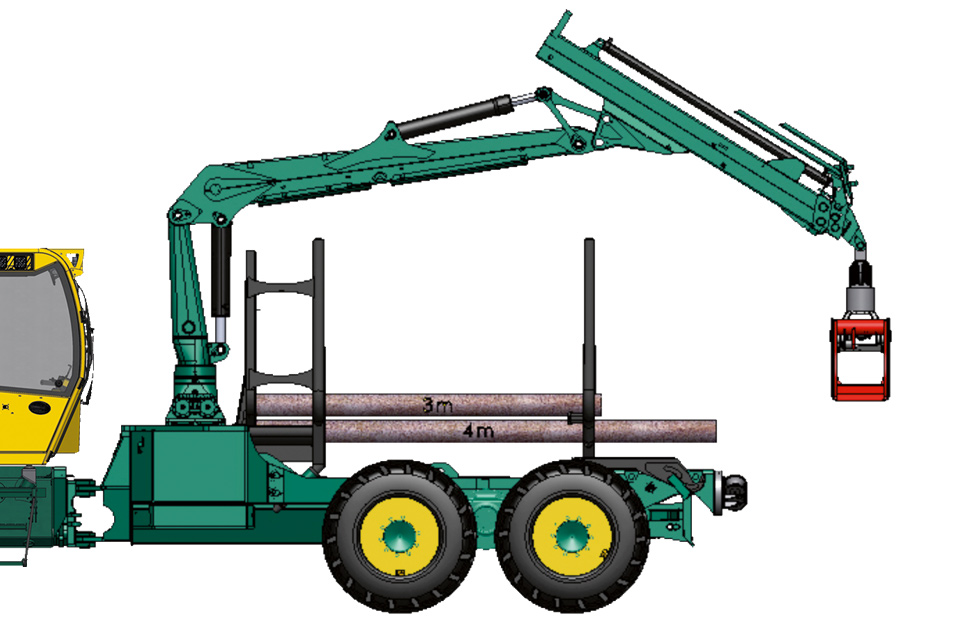 Last stanchion variable in "short" position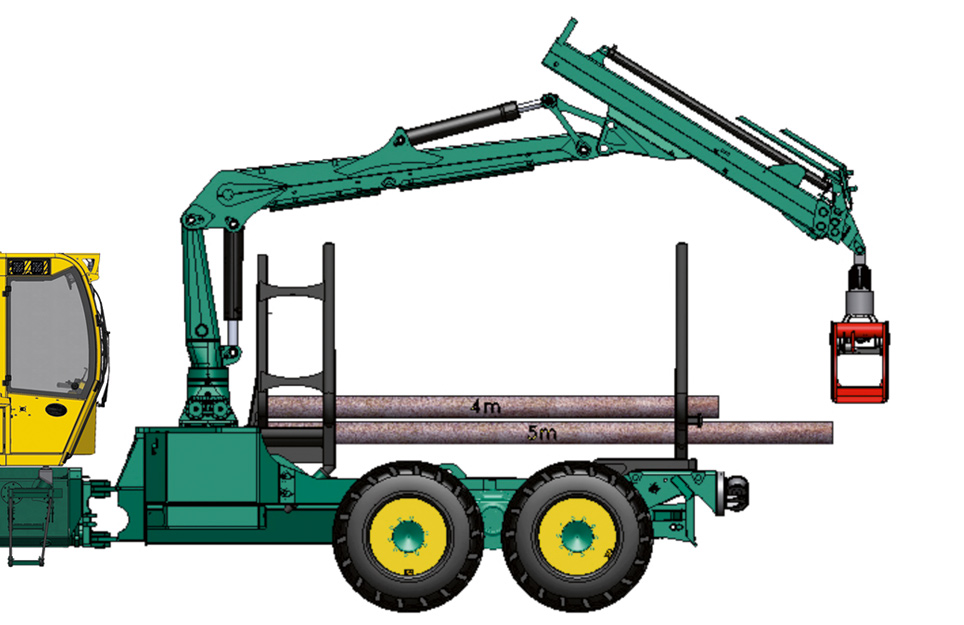 Last stanchion variable in "centre" position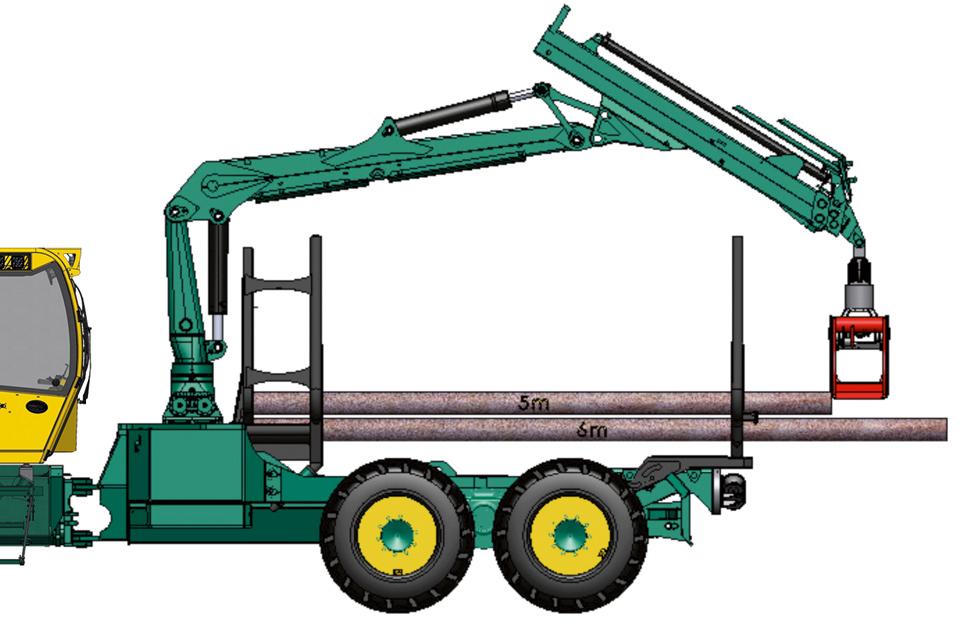 Last stanchion variable in "long" position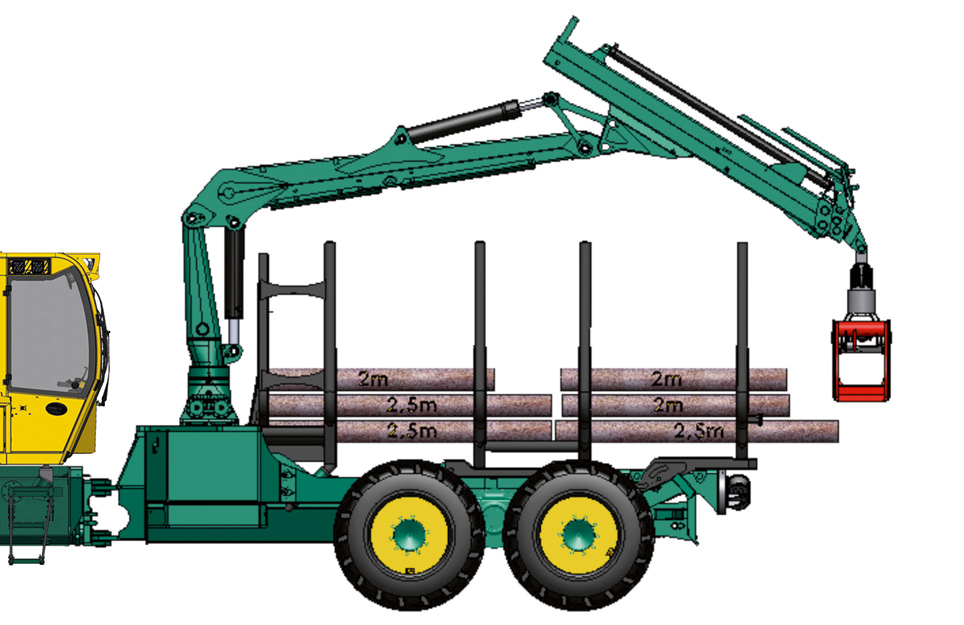 Quick-change twin stanchion for 2 x 2 or 2 x 2.5 m wood (not for 805F short version)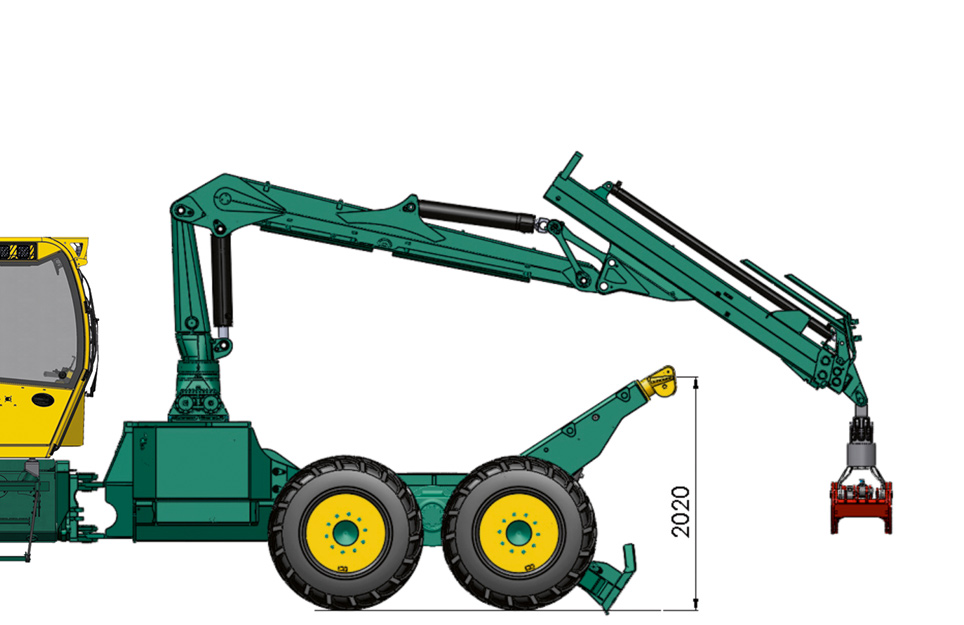 Height-adjustable pulleys up to 2 m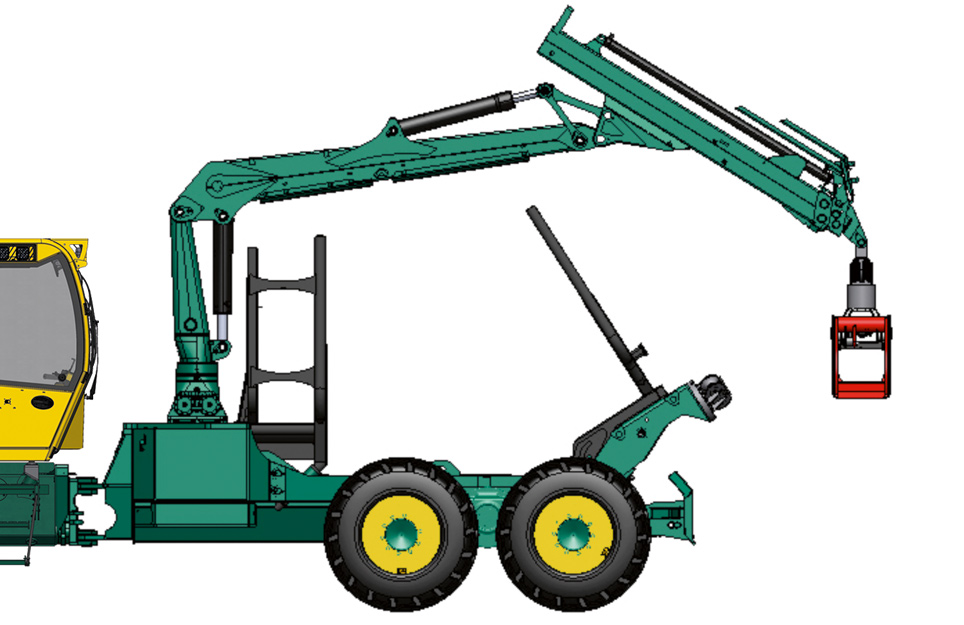 Rope forwarding possible without reconfiguring the stanchion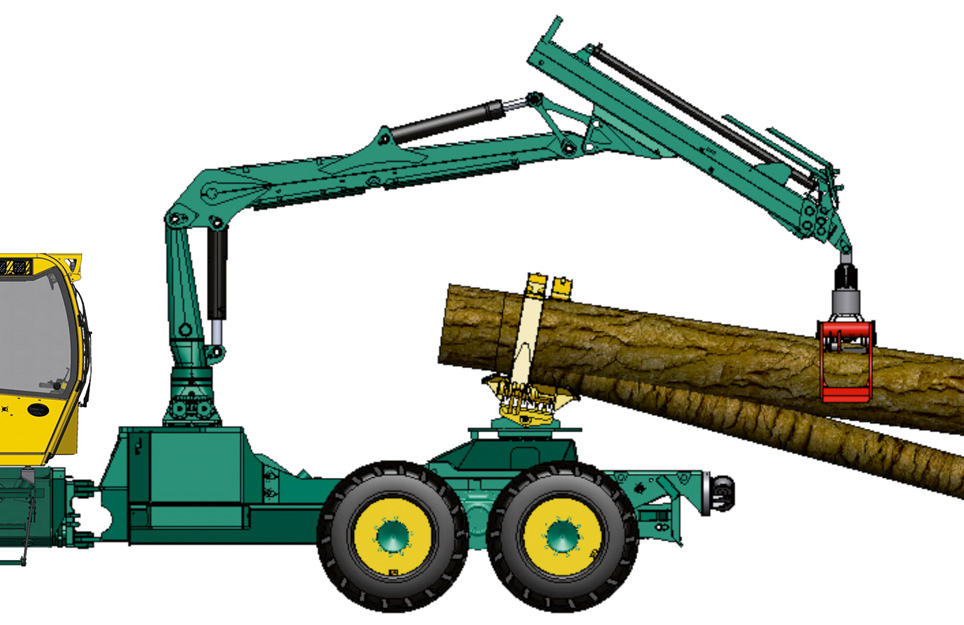 Log forwarding with quick-change clamping workbench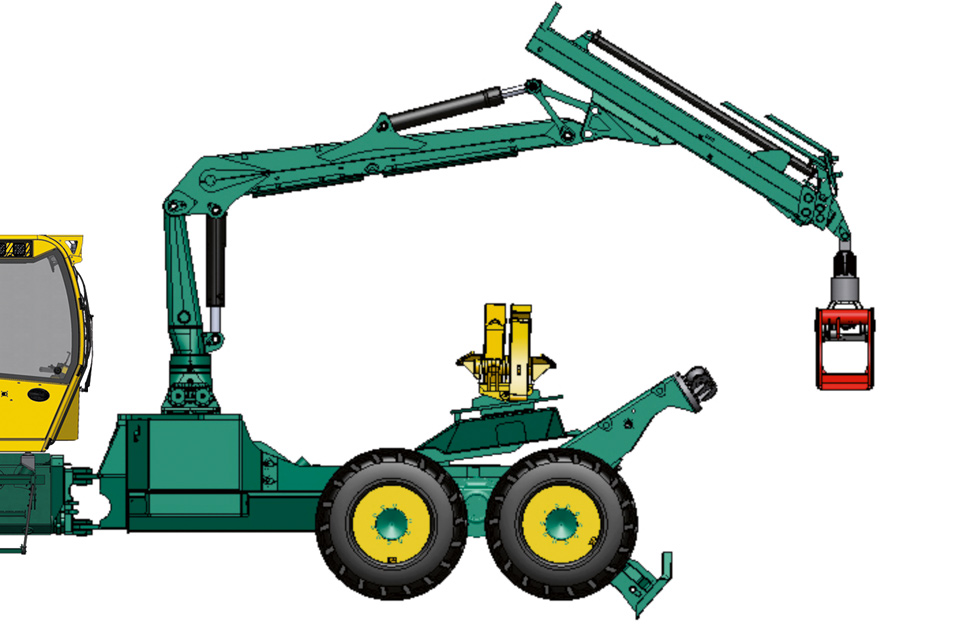 Rope forwarding possible without reconfiguring the clamping workbench