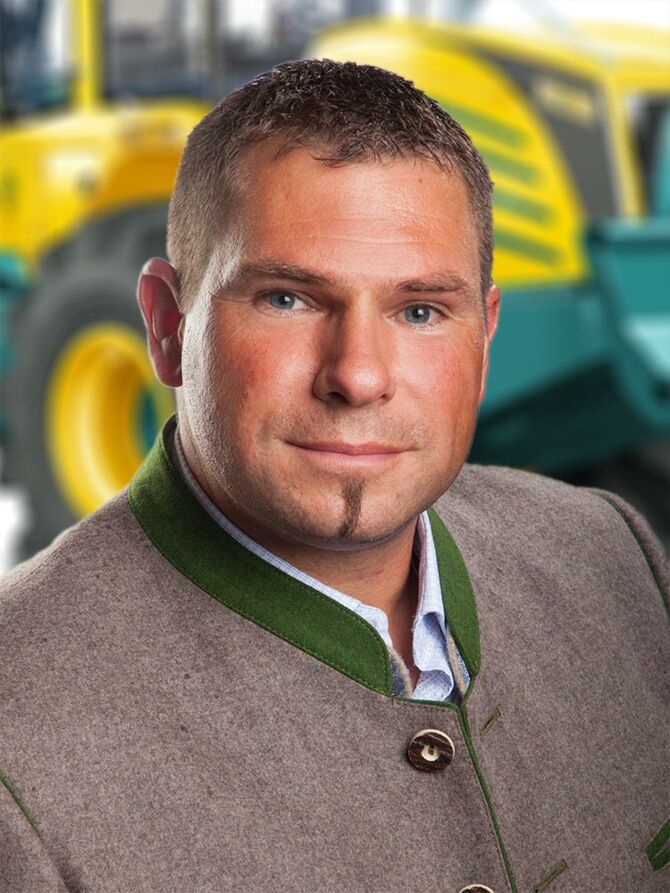 HSM CONTINUES TO EXPAND SALES!
With Christian Maier, HSM strengthens its sales team with an experienced industry specialist as of 01.06.2022. Mr. Maier has many years of professional experience in the sales of forestry machines, offroad cranes and special transport low loaders.
As a sales representative for the sales areas of Bavaria Germany and Austria, Mr. Maier will provide competent advice for the HSM forestry machine program and thus continue to contribute to the success of forestry contractors and modern, sustainable forestry.
For all questions regarding the entire HSM product line, Mr. Christian Maier will be available at any time as contact person for the sales areas of Bavaria Germany and Austria as of 01.06.2022.
Contact details:
Mobile : +49(0)170 960 96 26
E-mail : christian.maier@hsm-forest.com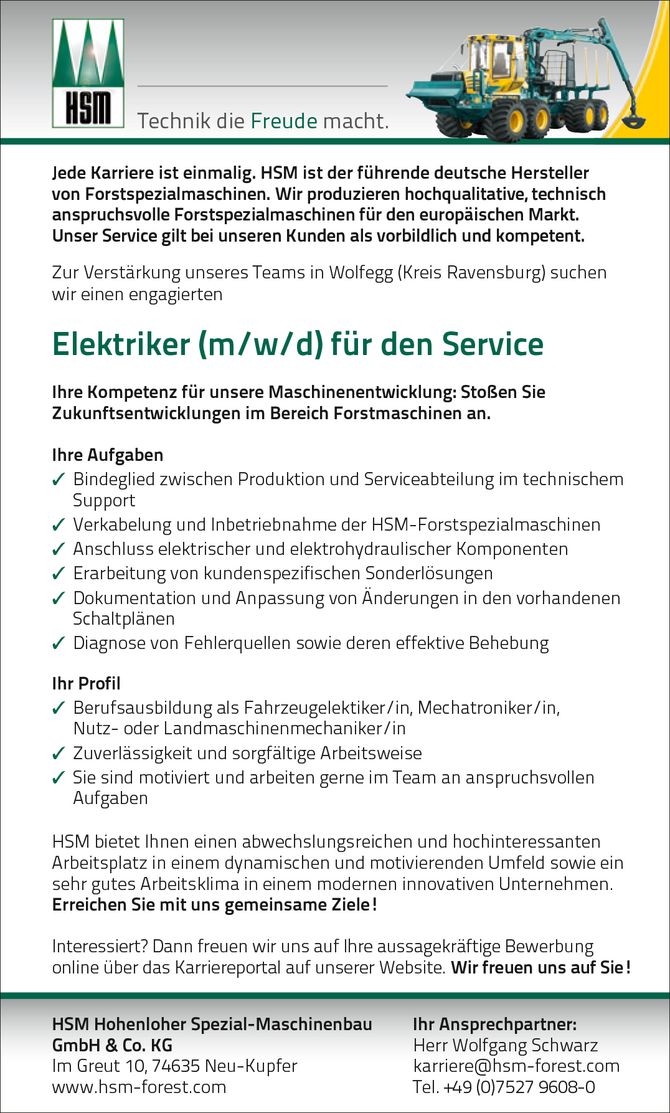 Forge the future with us ...
Find out about the attractive career opportunities at HSM - e.g. as an electrician (m/f/d) for service.
Welcome to the team.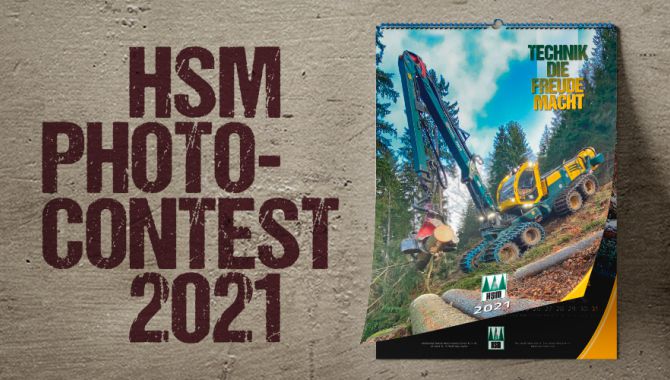 Take part in the HSM calendar photo competition again
For our annual HSM photo calendar we are looking for the best motifs of the various HSM forestry machines in use. With a bit of luck, your photo will appear in the HSM calendar 2022 and there are also HSM fan packages to be won. Find out more about the photo competition and the conditions of participation.
Find out more about the photo competition and the conditions of participation.
For more info, check out our Facebook page.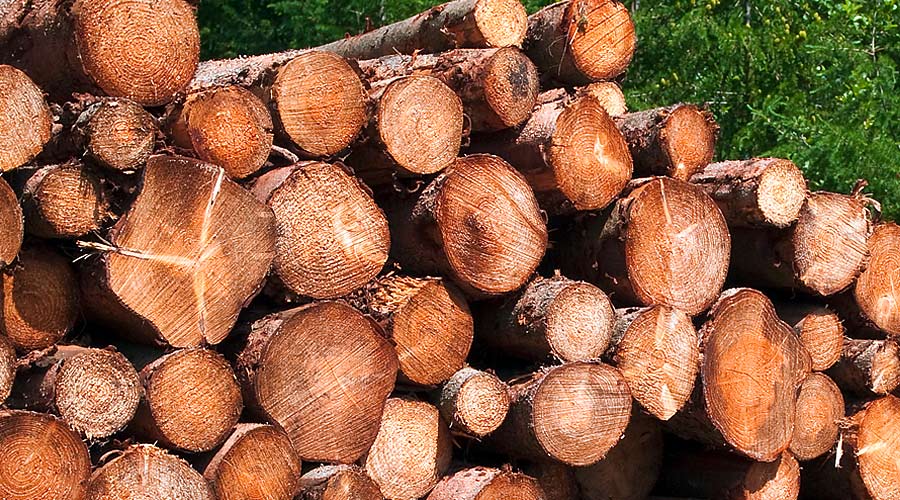 As an innovative manufacturer of forestry machines, HSM is participating in another forward-looking joint project.
"DiGeBaSt" A new method to digitally trace the origin of tree trunks.
Until now, logs have been identified using colored markers or numbered plates to track them from harvest to processing - a system with shortcomings.
A publicly funded research consortium is developing a digital alternative in which the cut surface structures of tree trunks are stored in the cloud as a digital identifier.
It should then be possible to link further data in this database, for example on the geographical origin and the storage period - seamlessly and traceably.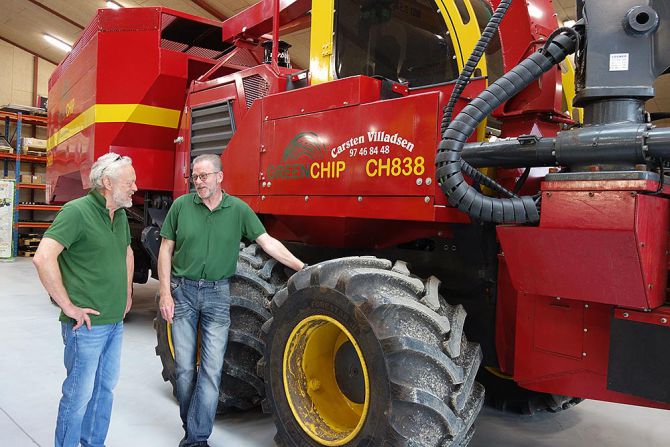 Open house at HSM dealer Green Chip in Denmark
Saturday, 3rd July the HSM-dealer Green Chip A/S in Nørager, Denmark opened the doors to present their new workshop and employees. The first chipper Green Chip CH838 was displayed together with the next machine that is under construction which made it possible to have a more detailed look of the process. A light meal was offered to the many visitors that came by to see the machines and also have a talk with the employees that is well known in forestry business.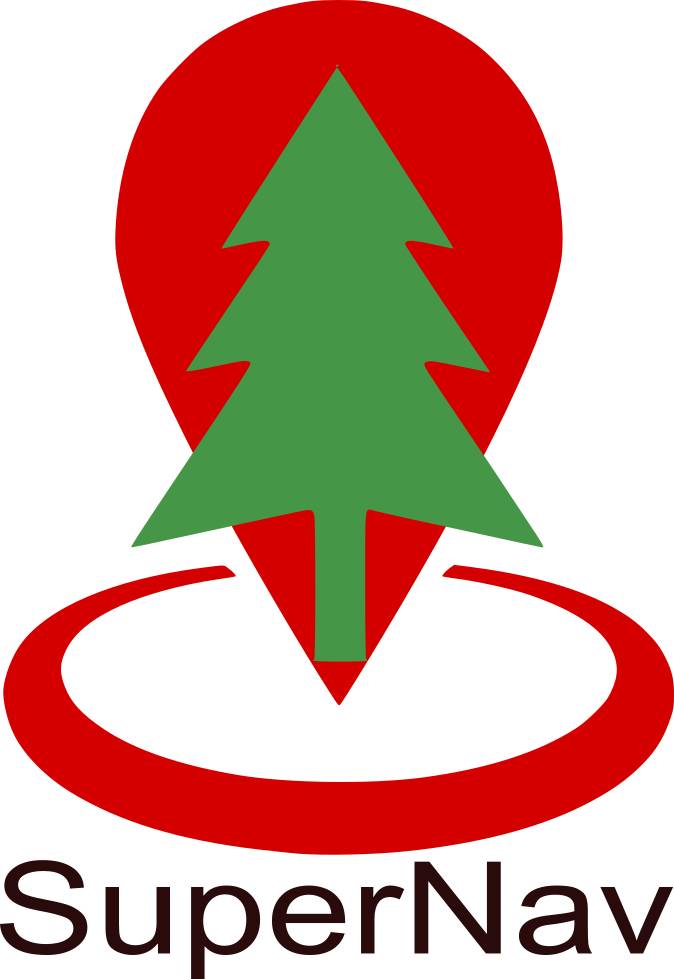 Wie kann die Positionierungsgenauigkeit von Forstmaschinen erhöht werden?
Das Projekt "SUPERNAV" – SUbmeterPositionierung in der Forstwirtschaft unter schwiERigen SAT/NAV-Bedingungen
Für eine nachhaltige, bodenschonende und gleichermaßen effiziente und sichere Holznutzung ist die präzise Positionsbestimmung von Forstmaschinen von entscheidender Bedeutung. Dabei sind GNSS-Systeme (Globale Satellitennavigationssysteme) als weltweit verfügbares Positionierungssystem in der Landwirtschaft seit vielen Jahre etabliert und für den Einsatz in Umgebungen mit viel freier Sicht konzipiert. Mit den bislang verfügbaren Systemen ist eine zuverlässige Echtzeitpositionierung in Waldbeständen aufgrund der schwierigen Umgebungsbedingungen jedoch nicht möglich.
Im Verbundprojekt »Submeterpositionierung in der Forstwirtschaft unter schwierigen Sat/Nav-Bedingungen« (kurz: SuperNav) soll durch optimierte Technologien und Kombination diverser Sensoren eine höhere Genauigkeit im Wald erzielt werden. Ziel des Projekts ist die Entwicklung und Praxiserprobung innovativer GNSS-Antennen- und Empfängertechnologien fusioniert mit Inertial- und Odometriesensoren. Durch die Integration diverser Sensorik, neue Positionsalgorithmen und höhere Sensitivität der Waldantenne sollen die für eine Satellitenpositionierung im Wald vorherrschenden, ungünstigen Bedingungen, z.B. Abschattung, Beugung und schlechtes Signal-Rausch-Verhältnis, kompensiert werden. Damit soll die Positionierungsgenauigkeit im Submeterbereich mit den im Projekt neu zu entwickelnden Technologien durchgängig und in Echtzeit sichergestellt werden.
Zur Gewährleistung der Praxistauglichkeit werden die Anforderungen der forstlichen Praxis an die Benutzeroberfläche (GUI) ermittelt und umgesetzt. Damit soll das zu entwickelnde System in Forstmaschinen unter Echtzeitbedingungen getestet werden, einfach zu bedienen sein und zugleich den Maschinenfahrer bei der Orientierung im Wald entlasten.
Für Waldbesitzer, Forstbetriebe, Forstunternehmen und rohstoffverarbeitende Holzindustriebetriebe ergäben sich hierdurch erhebliche Verbesserungen hinsichtlich Arbeitssicherheit, Zuverlässigkeit bei der Einhaltung des Bodenschutzes als Aspekt der Umweltvorsorge und Erfüllung der Zertifizierungsanforderungen und Wirtschaftlichkeit der involvierten Betriebe.
Projektziele
Submetergenaue Positionierung im Wald
Entwicklung einer sensitiven »Wald-Antenne« für die im Wald spezifischen Anforderungen
Geometrische Anordnung mehrerer Antennen und Empfänger zur Reduzierung von Signalausfällen und Optimierung der Positionsbestimmung (kooperative Signalverfolgung)
Sensorfusion durch die Kombination von GNSS mit Inertial- und Odometriesensoren für eine genauere Positionsbestimmung
Evaluierung der Benutzeranforderungen an die Oberfläche (GUI) und dementsprechende Umsetzung
Test der entwickelten Lösungen im Maschineneinsatz in Echtzeit unter Berücksichtigung von Einflüssen durch Gelände, Bestandsstruktur, Witterung, Jahreszeit und Tageszeit
Einbau des Systems in Forstmaschinen
Gefördert durch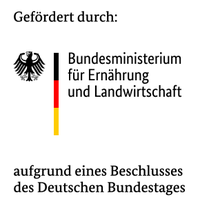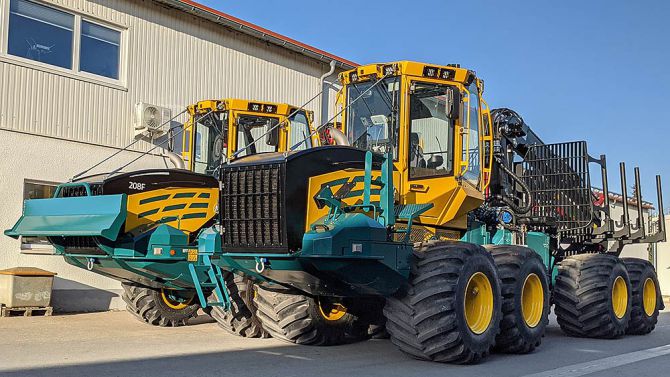 With the most innovative technology and maximum flexibility, HSM makes an important contribution to the success of entrepreneurs.
For decades, HSM has stood for sustainable, ecological and soil-friendly forestry.
HSM 208F 12t, in comparison visible, the advantages with tires Bigfoot 940 mm wide to 710 mm wide at 3000 mm machine outer width.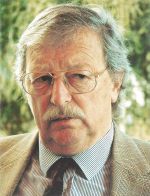 OBITUARY


Hubert Prince zu Hohenlohe-Waldenburg deceased
The co-founder of Hohenloher Spezial-Maschinenbau GmbH &Co. KG and long-time shareholder and technical director passed away at the age of 85 at his residence Waldhof in Obersulm. He is survived by his widow, four children and four children-in-law, sixteen grandchildren and three great-grandchildren.
Prince Hubert, as he was respectfully called at HSM, built up the company together with his brother from humble beginnings.
As early as 1967, he introduced the Timberjack brand of forestry tractors to the German market. The mobile log debarkers followed as his first own design. Here, his innovations of the tiltable structure of the debarking unit and the simultaneous use of two cranes for feeding and poling the debarked logs were trend-setting for the industry.
From the mid-eighties, the focus was on the company's own brand HSM forestry machines, which were specially adapted to the Central European market. From the nineties, HSM was thus the market leader in Central Europe.
The cooperation with the company Konrad Adler KG in Wolfegg already started with the installation of Adler forestry winches on Timberjack. From the very beginning, HSM forestry machines were completely built at Adler, of course with Adler winches.
Many HSM-typical features were developed by Prince zu Hohenlohe-Waldenburg, e.g. the design "narrow with wide tires" by central twisting on the special forestry tractor and the special design of the narrow bogie axles on the forwarder.
In the company HSM, which he followed with benevolent interest until the end, his technical developments and his entrepreneurial commitment live on. His eldest son Felix has been running the business for over twenty years. All HSM employees are aware of how much they owe to Hubert Prinz zu Hohenlohe-Waldenburg's decades of building up the company.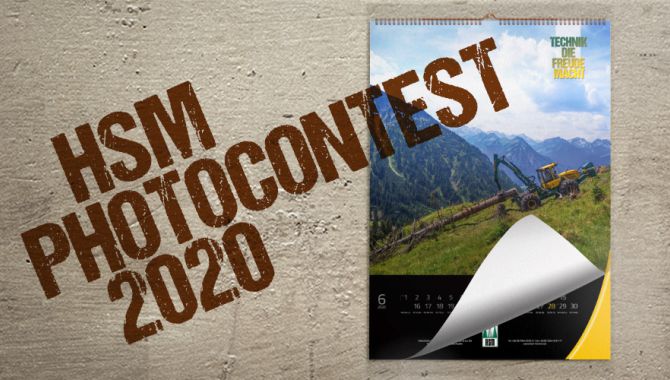 Take part again in the HSM calendar photo competition
For our annual HSM photo calendar, we are looking for a high-resolution image of current HSM forestry machines in operation. The winning photo will receive a place in the HSM Calendar 2021 and in addition there will be an HSM fan package. Find out more about the conditions of participation on our Facebook page.