HSM 208F BigFoot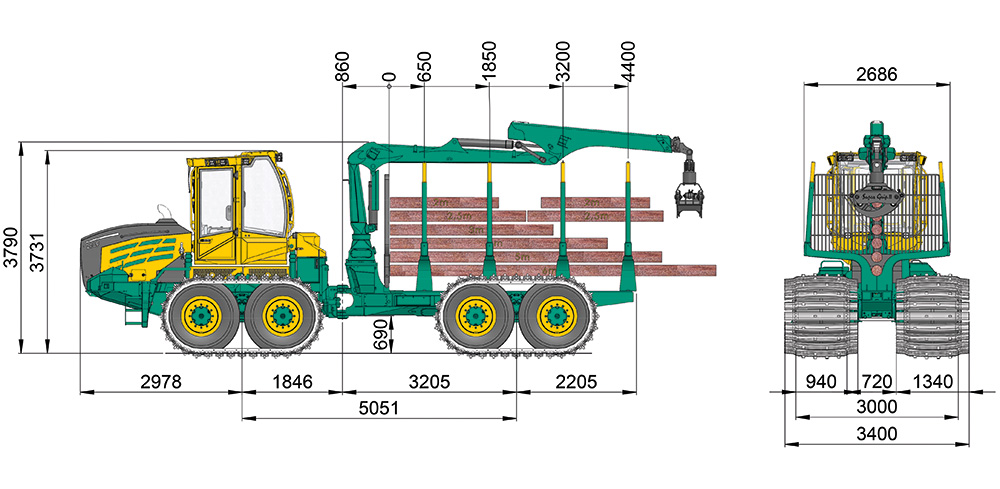 HSM – The pioneer in soil-conserving forest technology
HSM adheres to the concept of creating "Wide wheels on a vehicle with a small width" like no other manufacturer.
The 208F 10 t up to 208F 12 t model series was equipped with extremely wide tyres of up to 940 mm with a small outer width of under 3 m at its market launch many years ago.
Less track depth on wet surfaces
Higher driving speed and less fuel consumption than vehicles with tracks
Significantly less erosion of soil onto the paved forest road
The HSM 208F BigFoot is the logical progression of this idea – the perfect innovation for soil-protecting forestry technology!
Equipped with special bunks, the BigFoot can be driven using specially developed 1340 mm wide tracks.
This enables productive and efficient timber harvesting with less track depth on wet surfaces that would otherwise be impassable. Operating a BigFoot without tracks is efficient and conserves resources. Higher driving speeds and less fuel consumption, all while protecting forest paths (through less erosion of soil), are definite advantages for achieving efficiency.
Tyres: Firestone 54 x 37-25
(940 mm wide) – results in less ground pressure than 700 series wheels with tracks
Operation without tracks protects forest paths and saves money
For extreme operation on wet ground – Tracks up to 1340 mm wide
Efficient forestry technology for use on all terrain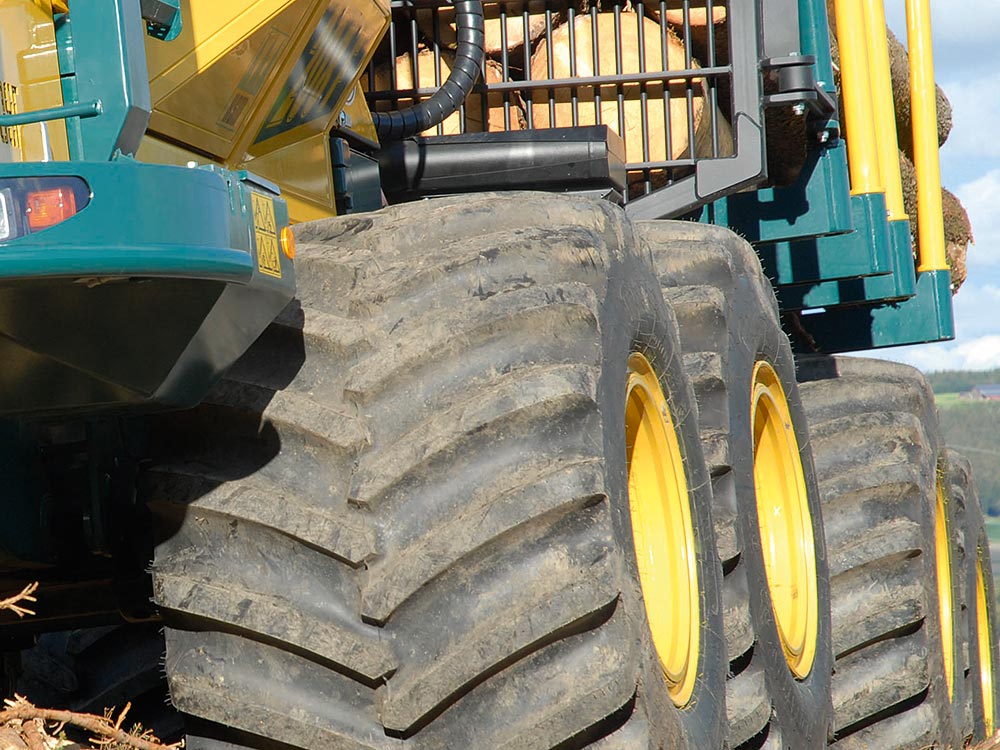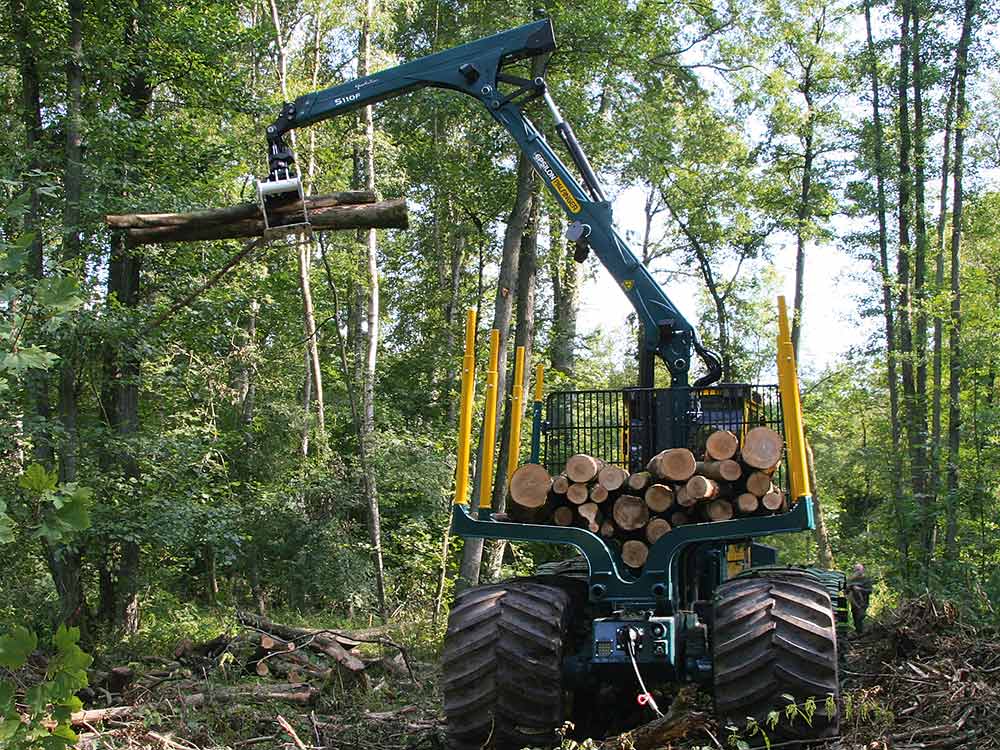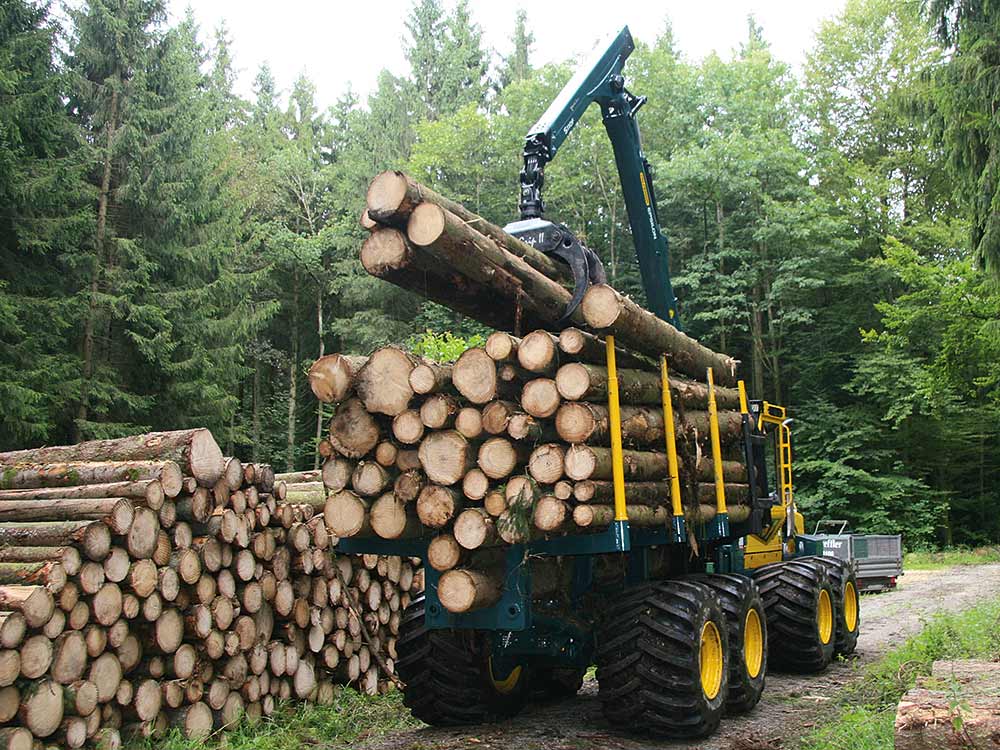 Technical data 208F BigFoot
Engine:
VOLVO PENTA
TAD881VE EU Stage V
Power: 185 kW (252 HP) from 1600 rpm
Max. revolution: 1150 Nm from 1100 - 1500 rpm
Max. torque: 1175 Nm at 1400 rpm
Displacement: 7,7 liters

Optional:


VOLVO PENTA
TAD882VE EU Stage V
Power: 210 kW (286 HP) from 1700 rpm
Max. revolution: 1225 Nm from 1100 - 1600 rpm
Max. torque: 1255 Nm at 1400 rpm
Displacement: 7,7 liters
Transmission:
NAF 2-speed transfer gearbox
HSM High Speed Drive (71 series), 1st gear 0-14 km/h
Axles:
NAF planetary axles
Front: 100 % selectable differential lock
Rear: 100 % selectable differential lock
Brake:
2-circuit brake, disk brake running in an oil bath
Spring-loaded parking brake
Steering:
Articulated steering with 2 cylinders
45° steering angle
Tyres:
| | Size: | Total width: |
| --- | --- | --- |
| Series: | 54 x 37-25 | 3000 mm |
Tank capacity:
Diesel: 190 l
AdBlue: 45 l
Hydraulic oil: 130 l
Hydraulic system:
Load sensing
Variable pump (working pump):
flow rate: 304 l/min bei 1600 rpm
pressure: up to max. 350 bar
Hydraulic oil: saturated synthetic ester
Panolin HLP SYNTH with Kleenoil
Microfiltration; WGK 1
Cabin:
Parallel pivoting cab
ROPS, FOPS, OPS tested safety cab
Swivel seat with pedals in the rear and the front
Windscreen wipers in the front and the rear, optional side wipers
Air cushioned seat with seat heating
Hot water heating
Air conditioner
Electrics / Instruments:
HSM Ecommand colour display
5 driving programs + factory setting
Diagnostics function and error display
Graphical support for editing parameters
110 A (28 V) generator
2 maintenance-free dry-cell batteries, each with 75 Ah
Weight:
18.500 kg (series)
Weight distribution:
Front axle: 60 %
Rear axle: 40 %
Loading crane:
Series: Epsilon M70 F80
For further cranes see crane brochure
Loading area:
4 bunks
Length: 4400 mm
Cross-section: 3,8 m2 / Option 4,2 m2
Payload: 11 t
Standard equipment:
4 LED-working headlight at cabin
4 working headlights at crane
Potential transformer, radio with CD, fire extinguisher, first aid kit, warning triangle, tool kit, cooling box
Special equipment:
Front dozer-blade
Tandem axle lift (Bogie lift) front
Single-drum winch 7 t
Turnable rung, tiltable crane, quick-change system for rungs
HSM Crane-lists
HSM Crane-list EPSILON
X = available against surcharge, O = standard equipement, # = not available
EPSILON
Crane typ
Lifting moment
Range
Gripper type
208F 11 t
C60 F69
82/63 kNm
6,9 m
FG43S
#
C60 F86
82/51 kNm
8,6 m
FG43S
#
M70 F80
102/68 kNm
8,0 m
FG43S
O
M70 F86
102/68 kNm
8,6 m
FG43S
X
M70 F101
102/65 kNm
10,1 m
FG43S
X
M80 F80
114/79 kNm
8,0 m
FG43S
X
M80 F86
114/79 kNm
8,6 m
FG43S
X
M80 F101
114/75 kNm
10,1 m
FG43S
X
S100 F80
128/91 kNm
8,0 m
FG43S
X
S100 F86
128/90 kNm
8,6 m
FG43S
X
S100 F101
128/86 kNm
10,1 m
FG43S
X
S110 F80
143/104 kNm
8,0 m
FG43S
X
S110 F86
143/104 kNm
8,6 m
FG43S
X
S110 F101
143/100 kNm
10,1 m
FG43S
X
X120 F80
159/111 kNm
8,0 m
FG43S
#
X120 F86
159/110 kNm
8,6 m
FG43S
#
X120 F102
159/107 kNm
10,2 m
FG43S
#
X140 F80
173/123 kNm
8,0 m
FG43S
#
X140 F86
173/122 kNm
8,6 m
FG43S
#
X140 F102
173/119 kNm
10,2 m
FG43S
#
Low crane column (height 1730 mm)
series at steep slope and Kombi
X
HSM Crane-list Mesera
X = available against surcharge, O = standard equipement, # = not available
Mesera
| Crane typ | Lifting moment | Range | Gripper type | 208F 11 t |
| --- | --- | --- | --- | --- |
| F59 F72 | 78/56 kNm | 7,2 m | FG43S | # |
| F59 FT85 | 78/51 kNm | 8,5 m | FG43S | # |
| F59 FT100 | 78/47 kNm | 10,0 m | FG43S | # |
| F59 FT100i | 78/47 kNm | 10,0 m | FG43S | # |
| F71 F72 | 99/75 kNm | 7,2 m | FG43S | X |
| F71 FT85 | 99/70 kNm | 8,5 m | FG43S | X |
| F71 FT100 | 99/66 kNm | 10,0 m | FG43S | X |
| F71 FT100i | 99/66 kNm | 10,0 m | FG43S | X |
| F83 F72 | 106/82 kNm | 7,2 m | FG43S | X |
| F83 FT85 | 106/76 kNm | 8,5 m | FG43S | X |
| F83 FT100i | 106/73 kNm | 10,0 m | FG43S | X |
| M 92 F80i | 130/84 kNm | 8,0 m | FG43S | X |
| M 92 FT86i | 130/84 kNm | 8,6 m | FG43S | X |
| M 92 FT100i | 130/84 kNm | 10,0 m | FG43S | X |
| F111 F72 | 151/111 kNm | 7,2 m | FG43S | # |
| F111 F85 | 151/100 kNm | 8,5 m | FG43S | # |
| F111 FT85 | 151/100 kNm | 8,5 m | FG43S | # |
| F111 FT91 | 151/98 kNm | 9,1 m | FG43S | # |
| F111 FT100 | 151/101 kNm | 10,0 m | FG43S | # |
| M122 F85i | 155/110 kNm | 8,5 m | FG43S | # |
| M122 F96i | 155/ - kNm | 9,6 m | FG43S | # |
| M122 FT100i | 155/ - kNm | 10,0 m | FG43S | # |
| M142 F85i | 178/132 kNm | 8,5 m | FG43S | # |
| M142 F96i | 178/124 kNm | 9,6 m | FG43S | # |
| M142 FT100i | 178/ - kNm | 10,0 m | FG43S | # |